Le Rouret Holiday Park Ardeche in South East France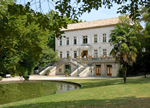 Le Rouret holiday park in Ardeche has camping and self catering accommodation including Chalets, Apartments.
This park in Ardeche has 6 swimming pools including slides/waterchutes with a kids pool and a covered pool. Le Rouret does allow pet dogs, but please do check when booking your specific self catering accommodation.

More about Le Rouret in Ardeche
This wonderfully situated holiday resort is within 80 hectares of landscaped grounds overlooking the peaks of southern France.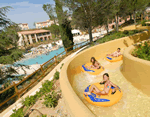 In the sublime southern Ardeche region, between Provence and the maze of deep valleys and soaring mountains that make up the Cevennes lies this wonderfully situated holiday resort, within 80 hectares of landscaped grounds overlooking the peaks of southern France. The climate here is warm, with sunny afternoons and mild evenings making for long, carefree summer days. The summits of the Cevennes are made up of a succession of natural plateaux, sometimes green like the Mont Aigoual or criss-crossed by lakes and rivers. The main square of your holiday village is where the fun is centred, with shops, bars and restaurants radiating outwards. At the foot of a striking terrace built of local stone there is an exhilarating complex of pools and waterchutes – there's even an artificial river - surrounded by your pastel coloured holiday villas. Inventive children's clubs and first rate sports facilities make this a hard place to leave.
Accommodation available at Le Rouret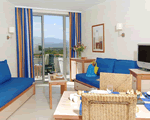 The campsite is dog friendly but please check when booking that your accommodation is suitable for pets.
Swimming at Le Rouret
The holiday parks has 6 swimming pools.
Great fun for adults and children, Le Rouret has water slide/water chutes.
It has a covered/indoor swimming pool which is useful on those cooler days but also when the sun is very strong.
There is a dedicated childrens/kids pool.
Le Rouret on campsite entertainment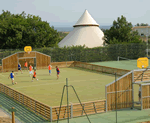 Le Rouret has a jacuzzi.
It has a sauna
A tennis court/s is available for hire.
There is a dedicated space for playing football on the campsite, this may be a field or five-a-side type area.
On holiday park facilities and services
Internet and/or WiFi access is available at the campsite, please not this may be chargeable.
There is a bar
There is a take-away restaurant on the park.
Family facilities at Le Rouret
Has a children's club
What's in the area near Le Rouret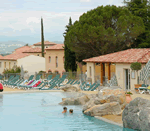 Horse riding is close by.
Grospierres and the local area is good for cycling and cycle hire is available near the holiday park.
Canoe hire is available on the campsite or close by.
Finding Le Rouret in Ardeche
Le Rouret can be found at Grospierres in Ardeche which is in South East France.
More about the holiday operator
This holiday park accommodation is available through Eurocamp. Eurocamp is a British company that has been operating in the European holiday market for over 20 years. Eurocamp is part of the Greenbank Holidays Ltd and is a part of ATOL (for air holidays), ABTA and AITO (Association of Independent Tour Operators). Please check the Eurocamp website for confirmation, clarification of these bodies and their membership.
Not what you are looking for?
If Le Rouret holiday park is unavailable, is not with your preferred holiday operator or not what you are looking for then why not widen your search in the area: