Family Beach Holidays in France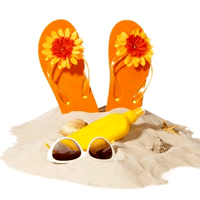 France is not short of fantastic coastline or great weather, so it is the perfect place for a family beach holiday. Whether you want to be splashing around in the waves, building sand castles, get involved in water sport or simply chill out in the sun on the beach a French beach holiday has lots to offer.
Start your Beach Holiday Search right here
Beach holidays in North East France
Beach holidays in South East France
Beach holidays in France - where to head?
For those with young families Picardy, Normandy and Brittany are hugely popular beach holiday destinations. Not only are they relatively close to the UK in terms of travelling time they are also highly popular family resorts so there you can be sure to find all of the services you need. Of course, the Brittany and Normandy coastlines also have a great selection of long sandy beaches that will keep the children building sand castles for hours!
For those with slightly older children, teens or those simply looking for a more active holiday then the Atlantic Coast of France is the place to head for a beach holiday. Popular regions of Southern Brittany, Vendee and Royan offer miles of sandy beaches and Atlantic rolling waves. With lots of popular family resorts in this area you will find lots of waters ports and activities to keep all members of the family entertained, on and off the water.
For those who are more 'sun-worship' inclined then the south coast of France is where to head for a beach holiday. The weather on the Cote d'Azur and Riviera regions of France is hot, making it the perfect place to work on your tan lying on a golden sandy beach. Of course the south coast of France is a popular beach holiday destination and so the facilities are good.
Beach Holiday Self Catering Accommodation
Beach holidays in France are hugely popular but there is a lot of good quality self catering accommodation available and some of the best value can be found at French holiday parks and campsites. Holiday parks in France offer a good range of quality self catering accommodation covering everything from chalets and lodges to mobile homes, caravans and tents. You will find these, as well as safari tents, tree houses and apartments on this site which are all perfect whether you are looking for a budget beach holiday or something a little more luxurious.