Campsites and Holiday Parks in the UK Camping in England Scotland and Wales
Choose from a superb selection of campsites and holiday parks in the UK, with camping and self catering accommodation available in England, Scotland and Wales. Whether you are looking for a couples escape, a family holiday or a get away for a group of friends our choice of lodges, mobile homes, chalets and static caravans will offer you everything from a luxury cabin to a superb budget holiday.
Start your Holiday Parks and Camping search here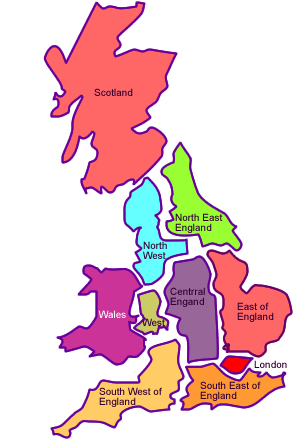 Simply click on the map to search for holiday parks, caravan parks and campsites across the UK by popular regions of England, Scotland and Wales. If you want to narrow down your search by county you can find a full list of counties lower down the page.
Popular camping, caravanning and holiday parks in England
Camping and caravan holidays in England offer a range of cultures, scenery, landscapes, coastlines, history, fells, moors, lakes, rivers and so much more.
The south west of England attracts millions of visitors each year with its long sandy beaches, rugged and drammatic coastlines, beautiful countryside, quaint fishing villages and wonderful hospitality. Most head for Devon and Cornwall but the other south west counties are just as good for a short break or holiday.
Cornwall holiday parks - Devon holiday parks - Dorset holiday parks - Somerset holiday parks - Gloucestershire holiday parks - Wiltshire holiday parks
In the south east of England you can find a bit of everything a good holiday needs - beach holidays, coastal walks, culture and history, cosmopolitan city and traditional rural England. Sussex and Kent provide much of the coast in the region and are both short train rides from the capital, London. Kent is also know as the Garden of England but Surrey and Hampshire offer just as much beautiful countryside.
East Sussex holiday parks - West Sussex holiday parks - Essex holiday parks - Hampshire holiday parks - Isle of Wight holiday parks - Kent holiday parks - Surrey holiday parks -
In eastern England you will find some wonderful countryside, waterways and coastline including the Norfolk Broads, Lincolnshire Wolds and the Suffolk Coast. Not forgetting some of the UK's finest regional cities such as Cambridge and Norwich and the ever popular holiday resorts such as Clacton on Sea, Mablethorpe and Skegness.
Cambridgeshire holiday parks - Essex holiday parks - Lincolnshire holiday parks - Norfolk holiday parks - Northamptonshire holiday parks - Suffolk holiday parks
From Shakespeares Stratford-upon-Avon to Robin Hood's Nottingham, from the Peak District to the heart of English academia in Oxford, a camping and caravanning holiday in central England provides such a great choice. Beautiful countryside, history and culture at every turn, where could you go wrong?
Derbyshire holiday parks - Nottinghamshire holiday parks - Oxfordshire holiday parks - Warwickshire holiday parks
Often a curious mix of English villages and towns with a definite Welsh flavour, these western counties border Wales. Herefordshire, Shropshire and Worcestershire provide a perfect base in rural England so no shortage of stunning scenery and a great place to relax.
Herefordshire holiday parks - Shropshire holiday parks - Worcestershire holiday parks
The north east of England has some of the nicest coastline in the UK with ultra long and golden sandy beaches to roam. The north east offers a fun filled holiday for all with rolling hills, rugged moorland, ancient castles and cathedrals, metropolitan and regional historic cities including Newcaste-upon-Tyne, Durham and York.
East Yorkshire holiday parks - North Yorkshire holiday parks - Northumberland holiday parks - Tyne and Wear holiday parks
The focal point of holidays to the north west of England is often the Lake District in Cumbria - one of the UK's National Parks. The Lakes and surrounding countryside certainly provide a great holiday but the north west has more to offer whether its the seaside town of Blackpool or the Yorkshire Dales and Moors.
Cheshire holiday parks - Cumbria and Lake District holiday parks - Lancashire holiday parks - North Yorkshire holiday parks - West Yorkshire holiday parks