Mobile Homes Holidays in France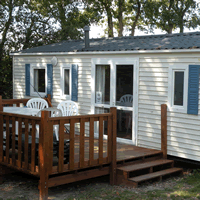 Whether you are looking for top of the range luxury or budget friendly self catering, a mobile home holiday in France is a great family holiday choice. With 2 or 3 bedroom mobile homes you can comfortably sleep up to 8 in comfortable beds and still have great living space, fully fitted and equipped kitchen and an en-suite bathroom.
Holiday homes on holiday parks and campsites offer some of the best value holidays in France, check out some more below.
Start your Mobile Home Holiday Search right here
Mobile home accommodation in France
There is no shortage of great self catering mobile home accommodation in France, and it comes in lots of different layout and options so that you are sure to find the right one for you.
Your first choice in mobile home accommodation is the number of bedrooms. You will find most are either 2 bedroom or 3 bedroom with at least 1 double room and 1 twin. Quite often the third room will have bunks beds. You will also find that the lounge area will also have a sofa bed, giving you another sleeping option.
There are lots of different mobile home layout options and this is largely about what suits your family and living preferences, whether you are looking for contemporary alfresco living or for extra living space and modern furnishings.
What facilities does a mobile home have?
Self catering mobile home accommodation in France comes very well equipped with everything you need to enjoy your holiday.
Your mobile home kitchen will have a gas hob, grill and oven, and a fridge/freezer. You will also have a selection of saucepans, frying pans, bowls, cooking utensils, cutlery and plates/bowls. In fact everything you need, just add food!
Your mobile home bedrooms have beds with foam mattresses, blankets and pillows. You will need to provide sheets/linen unless you order this from your operator as an optional extra.
The mobile home will normally have a gas powered boiler which provides hot water for the kitchen and the bathroom/s. The bathrooms contain sinks, showers and toilets.
Mobile homes are usually heated by a gas heater in the main living/lounge area for those colder nights and, more importantly, often have an electric fan to help it cool down during the day.
Mobile homes and Holiday Homes with decking
Most holiday operators will bombard you with optional extras for your holiday booking - some good, some not so good - but one that is really worth considering is decking. Decking outside your mobile home makes a massive difference, often doubling your day living space and making the most of the alfresco lifestyle experience. Particularly on French sites, which can be dusty/sandy, the decking is invaluable in keeping your living space dust free!