Camping at

Le Clarys Plage Holiday Park Vendee in North West France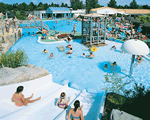 Le Clarys Plage holiday park in Vendee has camping and self catering accommodation including Mobile Homes and Static Caravans.
This park in Vendee has 2 swimming pools including slides/waterchutes with a kids pool and a covered pool. Le Clarys Plage does allow pet dogs, but please do check when booking your specific self catering accommodation.

More about Le Clarys Plage in Vendee
Clarys Plage is a family orientated site for children of all ages. From the fantastic pool complex to the beach just a short walk away to the Al Fresco run children's clubs there is never a dull moment. The evening entertainment includes discos and karaoke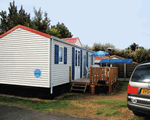 The pool complex covers all the bases with water slides; children's pool; jacuzzi and indoor swimming pool there is something for every one who likes water. For those who prefer the salty version the beach is a short walk and is great for jumping waves, body boarding or relaxing in the sun. There is an extensive programme of activities supplied by the Al Fresco children's club as well as the on site facilities including children's playground; tennis; table tennis and football/volleyball pitch. Off site there are plenty of things to keep you occupied with bike hire around the corner; Atlantic Toboggan water park a short drive away to the picturesque town of St Giles Croix De Vie; the wonderful promenade at St Jean de Monts with a fantastic long beach, cafes, bars and shops all within a short drive. A little further away you will find the zoo at Sables which is worth a visit.
Camping

Accommodation available at Le Clarys Plage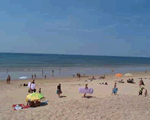 Mobile homes and static caravans that include fully equipped kitchen, 2 or 3 bedrooms, showers, toilets and that sleep up to 8 people are available
The campsite is dog friendly but please check when booking that your accommodation is suitable for pets.
Swimming at Le Clarys Plage
The holiday parks has 2 swimming pools.
Great fun for adults and children, Le Clarys Plage has water slide/water chutes.
It has a covered/indoor swimming pool which is useful on those cooler days but also when the sun is very strong.
There is a dedicated childrens/kids pool.
Le Clarys Plage on campsite entertainment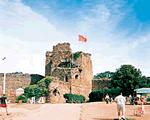 Le Clarys Plage has a jacuzzi.
A tennis court/s is available for hire.
There is a dedicated space for playing football on the campsite, this may be a field or five-a-side type area.
On holiday park facilities and services
There is a bar
A small shop is available on site for basic food and provisions.
There is a take-away restaurant on the park.
Family facilities at Le Clarys Plage
Has a children's club
What's in the area near Le Clarys Plage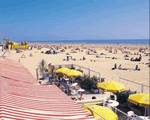 Le Clarys Plage is close to the Beach.
There are golf courses and driving ranges near to the park.
Horse riding is close by.
St Jean Plage and the local area is good for cycling and cycle hire is available near the holiday park.
Finding Le Clarys Plage in Vendee
Le Clarys Plage can be found at St Jean Plage in Vendee which is in North West France.
More about the holiday operator
This holiday park accommodation is available through Al Fresco.
Not what you are looking for?
If Le Clarys Plage holiday park is unavailable, is not with your preferred holiday operator or not what you are looking for then why not widen your search in the area: