Camping at

La Pignade Holiday Park Royan in South West France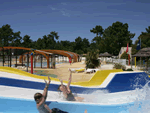 La Pignade holiday park in Royan has camping and self catering accommodation including Mobile Homes and Static Caravans.
This park in Royan has 3 swimming pools including slides/waterchutes with a kids pool and a covered pool.

More about La Pignade in Royan
La Pignade is our jewel in the crown - beautiful location, gorgeous surroundings and an abundance of activities both on and near the park.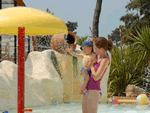 La Pignade has all the attractions of our larger parks but on a cosier scale!  There's the same hint of thrills and action, equal opportunity for languishing in the sun, all topped off with a heaped helping of nature that gives this park a special feel. The surrounding area is home to some of the most famous towns in France and a short journey will take you into La Rochelle, Royan and Cognac.
Camping

Accommodation available at La Pignade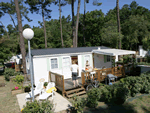 Mobile homes and static caravans that include fully equipped kitchen, 2 or 3 bedrooms, showers, toilets and that sleep up to 8 people are available
Swimming at La Pignade
The holiday parks has 3 swimming pools.
Great fun for adults and children, La Pignade has water slide/water chutes.
It has a covered/indoor swimming pool which is useful on those cooler days but also when the sun is very strong.
There is a dedicated childrens/kids pool.
La Pignade on campsite entertainment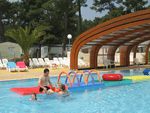 There is a dedicated space for playing football on the campsite, this may be a field or five-a-side type area.
On holiday park facilities and services
Internet and/or WiFi access is available at the campsite, please not this may be chargeable.
There is a bar
A small shop is available on site for basic food and provisions.
There is a take-away restaurant on the park.
Family facilities at La Pignade
Has a children's club
Siblu Soccer Club
What's in the area near La Pignade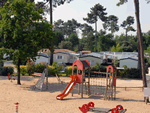 La Pignade is close to the Beach.
You can find Watersports and activities close to the campsite.
There are golf courses and driving ranges near to the park.
Horse riding is close by.
Ronce-les-Bain and the local area is good for cycling and cycle hire is available near the holiday park.
Finding La Pignade in Royan
La Pignade can be found at Ronce-les-Bain in Royan which is in South West France.
More about the holiday operator
This holiday park accommodation is available through Siblu. Siblu has been offering family holidays in Europe for over 30 years. Siblu is part ABTA. Please check the Siblu website for confirmation, clarification of their membership.
Not what you are looking for?
If La Pignade holiday park is unavailable, is not with your preferred holiday operator or not what you are looking for then why not widen your search in the area: