Camping at

La Garangeoire Holiday Park Vendee in North West France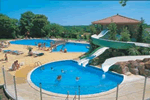 La Garangeoire holiday park in Vendee has camping and self catering accommodation including Mobile Homes and Static Caravans, Tents and Static Tents.
This park in Vendee has 3 swimming pools including slides/waterchutes with a kids pool. La Garangeoire does allow pet dogs, but please do check when booking your specific self catering accommodation.

More about La Garangeoire in Vendee
While the park's setting is one of unspoiled rural charm, there is much to discover in the area, including spectacular beaches.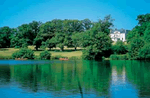 La Garangeoire is without a doubt one of the most prestigious members of the Castels chain. It offers you a breathtakingly beautiful setting amongst woods, meadows and lakes, yet still manages to be just a 15 minute drive from the superb Vendee beaches. The estate contains generous, mainly un-shaded pitches and you are welcome to explore a number of delightful well marked walks. There's just so much to do here, from tennis, which is free in early and late summer, to fishing and boating on the lake. Why not enjoy an evening in the modern restaurant and bar overlooking the superb pool, or a quiet drink in the cosy pub style bar which is located in the tastefully converted outbuildings of the chateau.
Camping

Accommodation available at La Garangeoire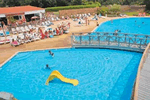 Mobile homes and static caravans that include fully equipped kitchen, 2 or 3 bedrooms, showers, toilets and that sleep up to 8 people are available
Family sized tents, with electric, lighting, grill & gas hob, fridge, beds and sleep up to 6 people are available
The campsite is dog friendly but please check when booking that your accommodation is suitable for pets.
Swimming at La Garangeoire
The holiday parks has 3 swimming pools.
Great fun for adults and children, La Garangeoire has water slide/water chutes.
There is a dedicated childrens/kids pool.
La Garangeoire on campsite entertainment
On holiday park facilities and services
Internet and/or WiFi access is available at the campsite, please not this may be chargeable.
There is a bar
A small shop is available on site for basic food and provisions.
There is a take-away restaurant on the park.
Family facilities at La Garangeoire
Keycamp Fun Station
Keycamp Leos Fun Station for 4-6 year olds
Keycamp Macs Fun Station for 7-9 year olds
Keycamp The Station for 9-12 year olds
Keycamp Soccer Station for 5-16 year olds
La Garangeoire is toddler friendly. Buggy hire is available. The holiday park has a Keycamp mini fun station with toys for toddlers and young children to play with. Tumbletots play sessions are also available.
What's in the area near La Garangeoire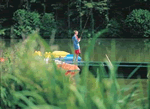 Horse riding is close by.
St Julien des Landes and the local area is good for cycling and cycle hire is available near the holiday park.
Canoe hire is available on the campsite or close by.
Finding La Garangeoire in Vendee
La Garangeoire can be found at St Julien des Landes in Vendee which is in North West France.
More about the holiday operator
This holiday park accommodation is available through Keycamp. Keycamp is a British company that has been a holiday operator in Europe for over 20 years. Keycamp is part of the Greenbank Holidays Ltd and is a part of ATOL (for air holidays), ABTA and AITO (Association of Independent Tour Operators). Please check the Keycamp website for confirmation, clarification of these bodies and their membership.
Not what you are looking for?
If La Garangeoire holiday park is unavailable, is not with your preferred holiday operator or not what you are looking for then why not widen your search in the area: