Camping at

La Baume Holiday Park Cote d'Azur in South East France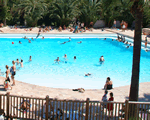 La Baume holiday park in Cote d'Azur has camping and self catering accommodation including Mobile Homes and Static Caravans.
This park in Cote d'Azur has 7 swimming pools including slides/waterchutes with a kids pool and a covered pool. La Baume does allow pet dogs, but please do check when booking your specific self catering accommodation.

More about La Baume in Cote d'Azur
At La Baume you will find a complete swimming pool experience with 7 separate pools including a Californian style lagoon with slides; children's paddling pool and jacuzzi. Outside there are multiple slides to accompany the magnificent pool area. To carry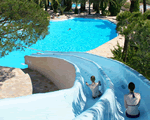 This park is defiantly for you if you enjoy activities as there is so much to do there will be little time for sitting and relaxing. There are however 2 bars and a restaurant as well as plenty of space to sit around the pool if you want a break from all the excitement. The children have a play area; club with organised activities and even their own disco. Park run sports tournaments; basketball; badminton; climbing wall and archery will give the older children something to think about and a 16+ disco just for good measure. There are family discos during July and August. Sightseeing has not been left from the list of things connected with this busy park with Cannes only 16 miles; St Tropez 22 miles and Nice 40 miles.
Camping

Accommodation available at La Baume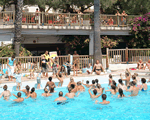 Mobile homes and static caravans that include fully equipped kitchen, 2 or 3 bedrooms, showers, toilets and that sleep up to 8 people are available
The campsite is dog friendly but please check when booking that your accommodation is suitable for pets.
Swimming at La Baume
The holiday parks has 7 swimming pools.
Great fun for adults and children, La Baume has water slide/water chutes.
It has a covered/indoor swimming pool which is useful on those cooler days but also when the sun is very strong.
There is a dedicated childrens/kids pool.
La Baume on campsite entertainment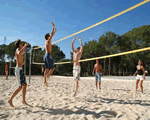 La Baume has a jacuzzi.
A tennis court/s is available for hire.
There is a dedicated space for playing football on the campsite, this may be a field or five-a-side type area.
On holiday park facilities and services
Internet and/or WiFi access is available at the campsite, please not this may be chargeable.
There is a bar
A small shop is available on site for basic food and provisions.
There is a take-away restaurant on the park.
Family facilities at La Baume
Has a children's club
What's in the area near La Baume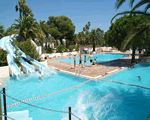 La Baume is close to the Beach.
You can find Watersports and activities close to the campsite.
There are golf courses and driving ranges near to the park.
Horse riding is close by.
Frejus and the local area is good for cycling and cycle hire is available near the holiday park.
Finding La Baume in Cote d'Azur
La Baume can be found at Frejus in Cote d'Azur which is in South East France.
More about the holiday operator
This holiday park accommodation is available through Al Fresco.
Not what you are looking for?
If La Baume holiday park is unavailable, is not with your preferred holiday operator or not what you are looking for then why not widen your search in the area: