Camping at

L'Etoile D'Argens Holiday Park Riviera in South East France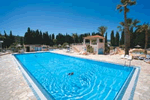 L'Etoile D'Argens holiday park in Riviera has camping and self catering accommodation including Mobile Homes and Static Caravans.
This park in Riviera has 3 swimming pools.

More about L'Etoile D'Argens in Riviera
L-Etoile d'Argens is a family-run parc that is proudly maintained and this is clear to see everywhere you look!?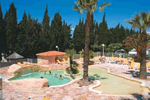 L'Etoile d'Argenshas a lovely pool complex with adjoining bar and restaurant is popular with all the guests, as is the animation programme which runs from May to August, offering organised activities for the whole family. The parc is set next to a vineyard and the tranquil River Argens which, in high summer, is a sail route for the parc's 44-seater boat down to the golden beaches of St. Aygulf - some of the best beaches on the C?te d'Azur. Also off parc, just across the bay is popular Fr?jus and fashionable St. Rapha?l.
Camping

Accommodation available at L'Etoile D'Argens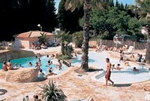 Mobile homes and static caravans that include fully equipped kitchen, 2 or 3 bedrooms, showers, toilets and that sleep up to 8 people are available
Swimming at L'Etoile D'Argens
The holiday parks has 3 swimming pools.
L'Etoile D'Argens on campsite entertainment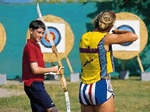 L'Etoile D'Argens has a jacuzzi.
On holiday park facilities and services
Internet and/or WiFi access is available at the campsite, please not this may be chargeable.
There is a bar
A small shop is available on site for basic food and provisions.
There is a take-away restaurant on the park.
What's in the area near L'Etoile D'Argens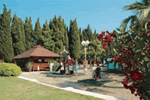 You can find Watersports and activities close to the campsite.
There are suitable fishing sites near the park.
There are golf courses and driving ranges near to the park.
Horse riding is close by.
St Aygulf and the local area is good for cycling and cycle hire is available near the holiday park.
Canoe hire is available on the campsite or close by.
Finding L'Etoile D'Argens in Riviera
L'Etoile D'Argens can be found at St Aygulf in Riviera which is in South East France.
More about the holiday operator
This holiday park accommodation is available through Eurocamp. Eurocamp is a British company that has been operating in the European holiday market for over 20 years. Eurocamp is part of the Greenbank Holidays Ltd and is a part of ATOL (for air holidays), ABTA and AITO (Association of Independent Tour Operators). Please check the Eurocamp website for confirmation, clarification of these bodies and their membership.
Not what you are looking for?
If L'Etoile D'Argens holiday park is unavailable, is not with your preferred holiday operator or not what you are looking for then why not widen your search in the area: