Dunes et Soleil Holiday Park Languedoc in South East France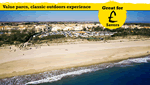 Dunes et Soleil holiday park in Languedoc has camping and self catering accommodation including , Tents and Static Tents.
This park in Languedoc has 1 swimming pools including slides/waterchutes. Dunes et Soleil does allow pet dogs, but please do check when booking your specific self catering accommodation.

More about Dunes et Soleil in Languedoc
Dunes et Soleil has a wonderful family friendly feel with direct access to the beach and close to a lively town.
In the sunny South of France, Dunes et Soleil's beachside location makes it a highly popular holiday park. The golden, sandy beach which can be directly accessed from the Park is perfect for lazy sunbathing and/or swimming in the sea. With the beach so close the park does not have a swimming pool but it does have a splash and paddling pool to keep younger children entertained. There is a relatively simple snack bar and takeaway on the park but with the lively town centre of Marseillan Plage a few minutes? walk away there are plenty of catering options close by.
Accommodation available at Dunes et Soleil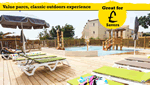 Family sized tents, with electric, lighting, grill & gas hob, fridge, beds and sleep up to 6 people are available
The campsite is dog friendly but please check when booking that your accommodation is suitable for pets.
Swimming at Dunes et Soleil
The holiday parks has 1 swimming pools.
Great fun for adults and children, Dunes et Soleil has water slide/water chutes.
Dunes et Soleil on campsite entertainment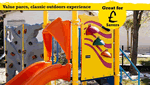 On holiday park facilities and services
Internet and/or WiFi access is available at the campsite, please not this may be chargeable.
There is a take-away restaurant on the park.
What's in the area near Dunes et Soleil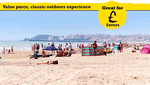 Dunes et Soleil is close to the Beach.
Finding Dunes et Soleil in Languedoc
Dunes et Soleil can be found at Marseillan-Plage in Languedoc which is in South East France.
More about the holiday operator
This holiday park accommodation is available through Eurocamp. Eurocamp is a British company that has been operating in the European holiday market for over 20 years. Eurocamp is part of the Greenbank Holidays Ltd and is a part of ATOL (for air holidays), ABTA and AITO (Association of Independent Tour Operators). Please check the Eurocamp website for confirmation, clarification of these bodies and their membership.
Not what you are looking for?
If Dunes et Soleil holiday park is unavailable, is not with your preferred holiday operator or not what you are looking for then why not widen your search in the area: