Camping at

Domaine de Dugny Holiday Park Loire Valley in North West France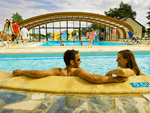 Domaine de Dugny holiday park in Loire Valley has camping and self catering accommodation including Mobile Homes and Static Caravans.
This park in Loire Valley has 4 swimming pools including slides/waterchutes with a kids pool and a covered pool.

More about Domaine de Dugny in Loire Valley
Domaine de Dugny is a park of two halves. One side has the children's adventure playground and pool complex while the other quieter side has the fishing lake.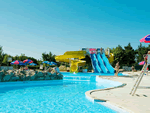 The park is situated between Blois and Amboise and provides a perfect base for exploring the many beautiful chateaux of the Loire Valley. The beautiful lake offers fishing, relaxing and pedalos; while the pool complex has fantastic slides as well heated children's area. Entertainment is catered for with the children's clubs during the day and evening shows including a monthly themed evening with meal and entertainment. With all the activities available on the park you will have a fun packed holiday at Domaine du Dugny.
Camping

Accommodation available at Domaine de Dugny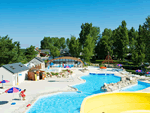 Mobile homes and static caravans that include fully equipped kitchen, 2 or 3 bedrooms, showers, toilets and that sleep up to 8 people are available
Swimming at Domaine de Dugny
The holiday parks has 4 swimming pools.
Great fun for adults and children, Domaine de Dugny has water slide/water chutes.
It has a covered/indoor swimming pool which is useful on those cooler days but also when the sun is very strong.
There is a dedicated childrens/kids pool.
Domaine de Dugny on campsite entertainment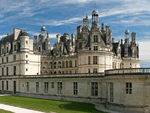 There is a dedicated space for playing football on the campsite, this may be a field or five-a-side type area.
Ideal for anglers or those looking for some peaceful relaxation, there is fishing available on site.
On holiday park facilities and services
Internet and/or WiFi access is available at the campsite, please not this may be chargeable.
There is a bar
A small shop is available on site for basic food and provisions.
There is a take-away restaurant on the park.
Family facilities at Domaine de Dugny
Has a children's club
Siblu Soccer Club
Domaine de Dugny is toddler friendly.
What's in the area near Domaine de Dugny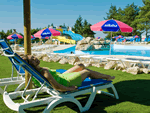 There are golf courses and driving ranges near to the park.
Onzain and the local area is good for cycling and cycle hire is available near the holiday park.
Finding Domaine de Dugny in Loire Valley
Domaine de Dugny can be found at Onzain in Loire Valley which is in North West France.
More about the holiday operator
This holiday park accommodation is available through Siblu. Siblu has been offering family holidays in Europe for over 30 years. Siblu is part ABTA. Please check the Siblu website for confirmation, clarification of their membership.
Not what you are looking for?
If Domaine de Dugny holiday park is unavailable, is not with your preferred holiday operator or not what you are looking for then why not widen your search in the area: