Chateau lez Eaux Holiday Park Normandy in North West France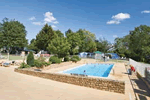 Chateau lez Eaux holiday park in Normandy has camping and self catering accommodation including Mobile Homes and Static Caravans, Tents and Static TentsChalets, Apartments.
This park in Normandy has 2 swimming pools including slides/waterchutes with a kids pool and a covered pool. Chateau lez Eaux does allow pet dogs, but please do check when booking your specific self catering accommodation.

More about Chateau lez Eaux in Normandy
Popular as a stopover on the journey south, this park also offers superb facilities and a really tranquil location.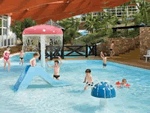 This pretty campsite is close to the main route on the Cherbourg peninsula making it ideal for stopovers or the whole holiday. A quiet, friendly Castels park it's a great place to simply relax while you soak up the atmosphere and enjoy its beautiful setting in the grounds of the manor house. There are some well maintained facilities, which include a remodelled covered swimming complex with slides and a water chute. There is also a sandy beach close to the village of St Pair-sur Mer which is just over 2 miles away. There is also fishing on the little lake, free of charge. Ideal for young families, the friendly owners work extremely hard to make your stay here enjoyable.
Accommodation available at Chateau lez Eaux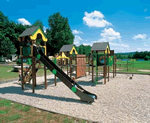 Mobile homes and static caravans that include fully equipped kitchen, 2 or 3 bedrooms, showers, toilets and that sleep up to 8 people are available
Family sized tents, with electric, lighting, grill & gas hob, fridge, beds and sleep up to 6 people are available
The campsite is dog friendly but please check when booking that your accommodation is suitable for pets.
Swimming at Chateau lez Eaux
The holiday parks has 2 swimming pools.
Great fun for adults and children, Chateau lez Eaux has water slide/water chutes.
It has a covered/indoor swimming pool which is useful on those cooler days but also when the sun is very strong.
There is a dedicated childrens/kids pool.
Chateau lez Eaux on campsite entertainment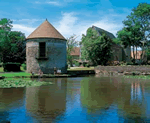 A tennis court/s is available for hire.
There is a dedicated space for playing football on the campsite, this may be a field or five-a-side type area.
Ideal for anglers or those looking for some peaceful relaxation, there is fishing available on site.
On holiday park facilities and services
There is a bar
A small shop is available on site for basic food and provisions.
There is a take-away restaurant on the park.
Family facilities at Chateau lez Eaux
Keycamp Fun Station
What's in the area near Chateau lez Eaux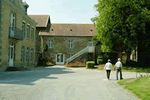 Chateau lez Eaux is close to the Beach.
Horse riding is close by.
St Pair-sur-Mer and the local area is good for cycling and cycle hire is available near the holiday park.
Finding Chateau lez Eaux in Normandy
Chateau lez Eaux can be found at St Pair-sur-Mer in Normandy which is in North West France.
More about the holiday operator
This holiday park accommodation is available through Keycamp. Keycamp is a British company that has been a holiday operator in Europe for over 20 years. Keycamp is part of the Greenbank Holidays Ltd and is a part of ATOL (for air holidays), ABTA and AITO (Association of Independent Tour Operators). Please check the Keycamp website for confirmation, clarification of these bodies and their membership.
Not what you are looking for?
If Chateau lez Eaux holiday park is unavailable, is not with your preferred holiday operator or not what you are looking for then why not widen your search in the area: