Camping at

Camping Cala Gogo Holiday Park Languedoc in South East France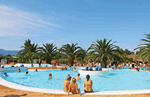 Camping Cala Gogo holiday park in Languedoc has camping and self catering accommodation including Mobile Homes and Static Caravans, Tents and Static Tents.
This park in Languedoc has 3 swimming pools with a kids pool. Camping Cala Gogo does allow pet dogs, but please do check when booking your specific self catering accommodation.

More about Camping Cala Gogo in Languedoc
Camping Cala Gogo is on the Mediterranean coast and has the Pyrenees as a backdrop you will be drawn to the broad, sandy beach right on the doorstep. Nearby Argeles is a diverse and exciting place to visit with its quaint town, interesting port and wonderful beaches.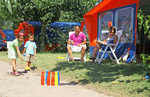 The site is large and spacious, with small emplacements bordered by flowering shrubs and mature trees and bushes. There is a large, palm fringed pool complex backed by a sun terrace, which offers stunning views of the Pyrenees as well as a cafe and shops. Whilst quiet in low season, in the summer the site is lively, with regular sports tournaments and a disco for older teenagers. The highly rated site restaurant is perfect for a quiet evening meal.
Camping

Accommodation available at Camping Cala Gogo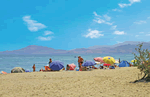 Mobile homes and static caravans that include fully equipped kitchen, 2 or 3 bedrooms, showers, toilets and that sleep up to 8 people are available
Family sized tents, with electric, lighting, grill & gas hob, fridge, beds and sleep up to 6 people are available
The campsite is dog friendly but please check when booking that your accommodation is suitable for pets.
Swimming at Camping Cala Gogo
The holiday parks has 3 swimming pools.
There is a dedicated childrens/kids pool.
Camping Cala Gogo on campsite entertainment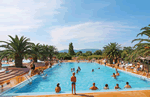 A tennis court/s is available for hire.
On holiday park facilities and services
Internet and/or WiFi access is available at the campsite, please not this may be chargeable.
There is a bar
A small shop is available on site for basic food and provisions.
There is a take-away restaurant on the park.
Family facilities at Camping Cala Gogo
Has a children's club
What's in the area near Camping Cala Gogo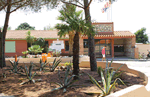 Camping Cala Gogo is close to the Beach.
You can find Watersports and activities close to the campsite.
St Cyprien and the local area is good for cycling and cycle hire is available near the holiday park.
Finding Camping Cala Gogo in Languedoc
Camping Cala Gogo can be found at St Cyprien in Languedoc which is in South East France.
More about the holiday operator
This holiday park accommodation is available through Canvas Holidays. Canvas Holidays has been offering camping package holidays for over 40 years and is part of the Wyndham Vacation Rentals Group. For your peace of mind Canvas is fully bonded by ABTA. Please check the Canvas Holidays website for confirmation, clarification of their membership.
Not what you are looking for?
If Camping Cala Gogo holiday park is unavailable, is not with your preferred holiday operator or not what you are looking for then why not widen your search in the area: