Family Friendly Holiday Resorts in Spain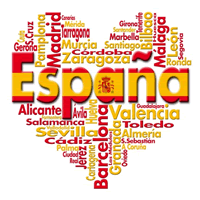 If you are looking for a family holiday that will really get the kids excited then Spain is an ideal destination. Full of interesting sites, unique food, historical interest and a plethora of holiday parks, the country is perfectly suited for children and adults alike.
Choosing Spain is easy – the real question is where to go once you are there? In truth, there are so many attractions to choose from that wherever you go, you won't be far from an adventure, holiday or water park that the whole family will enjoy.
Barcelona
Barcelona is a particularly popular destination and it is easy to see why. Beautiful beaches and a wonderful nightlife combine with a wide range of family attractions. You can have an easy, relaxed, fun-filled holiday here.
For the kids, Port Aventura – just an hour away in Salou – is perfect as it is split into six sections which each contain a number of rides, shows and eateries. There is a water park on site as well as a sea-life centre so you may wish to spend more than one day exploring this packed adventure park.
For the more adventurous traveller, the Bosc Aventura, which is located closer to the centre of Salou, provides an ideal way to spend an afternoon. The park contains zip lines, climbing walls and a paintball complex and is suitable for all ages. Hiring a car in Spain can be a great way to ensure you see all of the great family friendly attractions under the flexibility of your own car.
After a day of activity, a great way to relax and unwind is to enjoy the House of Illusion dinner theatre. Here you will wined, dined and entertained by magicians, illusionists, comedians and psychics, all included in the entrance fee.
Benidorm
If you have chosen instead to travel to Benidorm you will be equally impressed with the variety of family attractions available. Terra Mitica is a huge holiday park offering adventure rides, roller coasters and more than thirty-five daily shows and water rides for everyone to enjoy.
For a slightly more relaxed day, Mundomar is an aquarium and sea-life centre that offers a wide range of shows and activities for all ages. The dolphin show is a must-see but there are also sea-lion and parrot acts that are sure to entertain.
Aqualandia is also a great place for everyone who enjoys water parks, with lots to do and a massive variety of slides to enjoy. Terra Natura and Aqua Natura offer a combined wildlife and water park that also makes for a wonderful day out.
In Terra Natura you can visit the world's ecosystems and view and interact with a variety of flora and fauna. At the adjoining Aqua Natura you can enjoy water rides and slides and take part in exciting unforgettable activities such as swimming with sea lions.
Sevilla
Those travelling to Sevilla will definitely want to make sure they plan to visit Isla Magica, which is easy to find as it is located right in the middle of the city. The park has seven themed areas, all based on different episodes of Spanish history.
This park will take at least a day to fully explore and everything you need for a great time can be found here.
There is a wide range of roller coasters as well as rides for younger kids and you can also enjoy various shows, including a stunt-packed pirate show.
Madrid
If you are visiting Madrid on your holiday you will want to be sure to book a day to spend at Warner Brothers Movie World. Here you can find many different kinds of roller coasters, including the tallest wooden roller coaster in Europe.
There are various activities based on familiar themes. Batman, Superman and many other comic-book characters make an appearance and you will enjoy the familiarity of the experience.
Not all holiday parks are located in or near these bigger cities and you will find that there are numerous other water and theme parks dotted around the country for the whole family to enjoy.