Family Friendly Holiday Resorts in France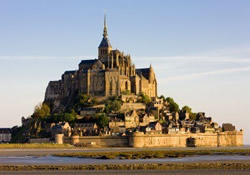 If you are looking for a family friendly break in Europe then you need to look no further than a holiday to France. Whether you choose to remain relatively close to the UK, venture further south to the Mediterranean or are looking for a city break, there are many resorts where families will be welcomed and well catered for.
Brittany and Normandy
If you are travelling from the UK, then Brittany and Normandy are the closest regions to get to from the main ferry ports. Within each of these regions are towns and cities that are full of history and perfect for the whole family. The Normandy region boasts three animal centres, including Alligator Bay near Mont St Michel. There is also Mont St Michel itself, as well as the Bayeux Tapestry and Monet's home at Giverny. There are also many museums offering children's audio guides, including the Caen Memorial.
In Brittany, children will love St Malo, with its walled harbour and Grand Aquarium. Further south there is Carnac, with its huge Neolithic stone ruins and the medieval towns of Dinan and Quimper. The region of Brittany and Normandy is also home to a long stretch of coastline with many beaches.
Campsites and mobile home parks are popular with families and there are many to choose from in this region. In addition, there is also plenty of other family friendly accommodation, such as gîtes and cottages. Many families prefer to self cater, but there are also many restaurants that are suitable for children.
Cote D'Azur
The Cote D'Azur or French Riviera is popular with families due to its proximity to the Mediterranean, which means that from June until September, warm sunshine should be more or less guaranteed. As well as the great sandy beaches that are dotted along this coast, there are many other places that families might want to visit.
No trip to this region would be complete without a visit to Marineland in Antibes, where children and adults alike will enjoy seeing the sharks, sea-lions and penguins and watching the dolphins.
For accommodation, there are camping and mobile home parks or other forms of self catering. However, if you want to push the boat out, you could try one of the family friendly luxury hotels this area has to offer, such as Le Beauvallon in the Bay of St Tropez, where families will be very well catered for.
Poitou Charentes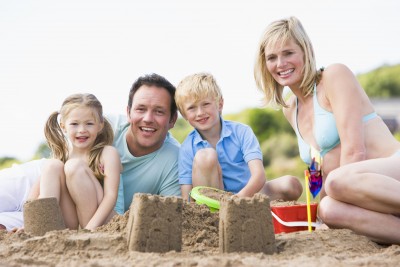 South of Brittany on the Atlantic coast is the Charentes region, which boasts many attractions that will keep families coming back. The region is divided into several areas, each of which has no shortage of things to do.
In Charente Maritime, the city of La Rochelle has a historic port and fantastic aquarium. This region also boasts La Palmyre Zoo near Royan and Ile de Re, an offshore island that can be accessed by bridge from the mainland.
In Viennes there is the historic town and regional capital of Poitiers as well as the Futuroscope theme park, which is a major tourist attraction for families.
Most of the accommodation, as with other areas of France that are popular with families, is of the self catering variety and there is a wide range of gîtes, cottages and campsites for you to choose from, depending on your budget and what you are looking for.
Paris and Il de France
While Paris has been long regarded as a romantic capital, it is also a great place for children. There are popular landmarks in the city such as Notre Dame, the Eiffel Tower, the Louvre and the Musée D'Orsay, which are all suitable for children to visit.
If you venture outside the city, there is the Palace of Versailles as well as France Miniature, where the children will love seeing scaled down versions of famous French landmarks. If you are looking for something else to keep your children amused, the Disneyland Paris theme park is on the outskirts of the city and is easily accessible from central Paris.
If you are basing yourself in the centre of Paris, there is no shortage of accommodation. From budget hotels to five star luxury, there are plenty of hotels for you to choose from and assess their suitability for you and your family. The story is much the same for restaurants, as this city has a wide variety of places to eat that will suit every palate and budget.
So whether you are looking to take the family for a city break or looking for somewhere to spend your two week summer holiday, you are sure to find a suitable place in France.
With its great mix of accommodation, tourist attractions, coastal resorts and cities, this country really has something for everyone and plenty for the family.