Eurotunnel travel this summer – top tip to reduce your stress
Thanks to daily media coverage we are all aware of the difficulties in crossing the Channel to France for our Summer holidays.  The big ports big ports and Eurotunnel are experiencing disruption this year.
So if you are due the head off shortly how is this going to impact you and what steps can you take to minimise the disruption?
Eurotunnel travel advice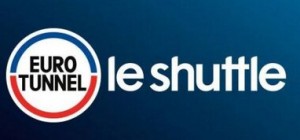 We have recently traveled to and from France via Eurotunnel and were lucky enough not to experience too many problems. This was thanks to some help from the Kent police and the Eurotunnel team.
Our outward journey took us via the M25 & M20 meaning we were going to be heading towards the notorious Operation Stack and inevitable delays. However, whilst on route we tweeted Eurotunnel Le Shuttle (@leshuttle) about the best route and they advised us to tweet Kent Police (@kentpoliceroads) for the latest information.
The Kent police advised us, based on the traffic on the day, to take the longer route towards Maidstone, rather than coming in direct.  Although slightly longer in mileage we had absolutely no delays even though when we crossed over the M20 near the station we could see queues.
On our return from holidays we were concerned on how we would get the same advice as we were going to be largely dependent upon our satnav.  Luckily we had continued to follow @leshuttle on twitter and they provided updates on how the tunnel was moving on both sides including what was happening because of the delays.
We were lucky not to be held up on the way back but were thankful for the twitter feeds for helping us navigate our journeys.  We highly recommend you make use of these great service while travelling this summer.
Heading to a European holiday park?
There is still availability at holiday parks across France, Spain and Italy if you are still looking to enjoy a family summer get-away.  Browse for parks by sandy beaches, wonderful coastlines or head inland to explore beautiful countryside.  Accommodation available includes tents, safari tents, glamping, lodges, mobile homes, bungalows and static caravans.