2012 holidays at 2011 prices offer extended. Eurocamp holidays in France Spain and Italy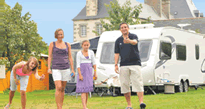 If you are planning to camp in Europe with your touring  caravan, motorhome or tent then there is still time to take advantage of Eurocamp Independents special offer for 2012.  If you book by the 14th November 2011 you can get your 2012 holiday at the same price as it was in 2011 – so your holiday will be inflation free! Find out more about this Eurocamp offer.
If you have not holidayed with Eurocamp before, we have no hesitation in recommending them having been on holiday with them every year for more than a decade.  The holiday parks are excellent, their support during booking and on site are unrivalled and you can truly build your holiday around your needs.
For many years we have stayed in Eurocamp mobile home and tent accommodation in France in the popular family regions of Vendee, Brittany and the Loire Valley.  Last year we used Eurocamp Independent for taking our touring caravan to France for the first time and can report that the booking service was first class, the parks great and support, when we needed it, on site excellent (particularly when we had a flat tyre!).
Find out more about this Eurocamp offer or take a look at a wide range of holidays with Eurocamp and other operators: