Cheap family holidays in Loire Valley France
With more than a thousand chateaux, the Loire deserves to be the study of a lifetime. Yet time is precious, particularly when there are also so many of France's finest vineyards to be found here too. Gently rolling countryside is everywhere and the wide, wonderful river meanders gently through the middle of it all. It is hard not to be enchanted by the Loire and most people find that one visit leads to many more.
Near Pierrefitte you will find Alicourts which offers plenty to do within its spacious grounds. There are masses of organised activities for children as well as an imaginative adventure play area, overlooked by the bar terrace. All this for the children means there is time for you to relax in the Balneo therapy wellness centre, including sauna, massage, Turkish bath and hydro-massage. You will need to be relaxed and refreshed before you start your adventure around the many chateaux of the Loire.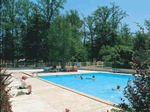 Families who like their holiday to be rustic and traditional will prefer La Grande Tortue near Cande sur Beuvron. This small park is set among shady trees just a short walk from the pretty village of Cande sur Beuvron and is very much off the usual tourist trail. There are shops and restaurants close by and you are well placed to explore all the popular chateaux including Chaumont, Cheverny and Blois.
Other places to stay in Loire Valley>
Explore more regions of France>