The Quest for the Golden Ticket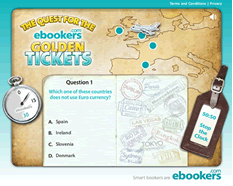 Here is something to cheer you up during these long dark winter months – a chance to win holiday prizes and a chance to prove to your friends how good your travel knowledge is.
The Quest for the Gold Ticket has been launched by ebookers and by simply answering some testing travel questions you gain entries in to a prize draw for tickets to destinations across the World.
So how far will you go – our first go got us as far as New York before an embarassing mistake on the next question… however, we will not be beaten and intend to try again!
Find our more about the quest at www.ebookersquest.com.