Staying at Paris International Caravan and Holiday Park, 4 star caravan park in Paris France – a review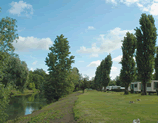 The Paris International caravan and camping site in France is all about its location and convenience, but it would be fair to say it's not about a holiday park with superb facilities and pitches.  We visited the Paris International caravan park in our touring caravan in August 2011 (booked via Eurocamp Independent), below is our review but the only thing to bear in mind is that the weather was very wet and miserable…. we didn't see the site at its best!
So firstly, the good… the park is on the outskirts of Paris AND importantly is just a short walk from a train station that is a direct line in to the centre of the city. From the station you can reach all of the Paris attractions via the metro and RER train services.
You can buy a variety of different tickets depending on the number of days you are staying but the Paris Visite ticket is like a UK travelcard that lets you use the metro and RER trains all day – so are well worth buying if you are planning to explore over a day or two.
Paris International site and facilities
Paris International sits alongside a river which when the sun is out looks very appealing and does offer activities such as kayaking, fishing and cycling.  A word of warning though, while many of the operators consider the park toddler friendly, there is no fencing between the park and the river.
The Paris International camping park itself is what you would expect of a camping site close to a major city and effectively offering the cheapest accommodation available. So the pitches are small, quite uneven and does make you feel quite packed in. The pitch sizes are better suited to tents but you will find a lot of caravanners there to. As a caravan owner, I can say it's definitely an advantage to have a motor mover or be able to push your caravan in to position as there is little room for reversing it in!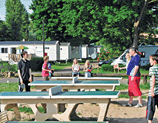 All the 4 star facilities you need (toilets, showers, washing etc) are there and functional. Probably the best way to describe it all is that it is closer to student accommodation than the caravan club – so no toilet seats or toilet roll provided here!
Shop / Bar/ Internet
There is a shop and bar on site,the bar served good food and the atmosphere was pleasant.  The bar area is also where you can get Internet WiFi access for a small charge. There is other entertainment on site, such as table tennis tables and a basketball hoop, but as people are either passing through or exploring Paris these are not the major reason for visiting.  The shop holds the basics and serves bread/pastires in the morning although we noticed a lot of people headed to a bakers just off the site for a cheaper deal.  As the site is so close to the town, there are a lot of shops and mini supermarket stores close enough to find all food types and anything else you require.
Electric hook-up
There is 3 pin electric on the site and it was correctly set up for the UK caravans.
Mobile home accommodation
If you are not taking your own caravan or tent, Paris International does have a selection of mobile home/static caravan accommodation with operators such as Eurocamp and Keycamp.  These offer great accommodation and, of couse, their own toilet/washing facilities that make the holiday more self contained.  This accommodation also alleviates the issues over pitch size as they are big and gain you amount of space not afforded most of the pitches.
We have stayed in the past in this accommodation, so I can say from personal experience that is the best way to experience Paris International.
Overall
Your view of this site all comes down to knowing what you are getting. It's not a luxurious caravan and holiday park by any stretch of the imagination but all the basic services are there and good enough.  They are not the biggest or nicest pitches that you will find in France, but then as you are unlikely to be spending much time there does it matter?  This site is all about the convenience of being close to Paris, so that you can explore this fantastic capital city without breaking the bank to pay for it!