Save up to £70 on a 7 night holiday with Park Holidays
Park Holidays have a fantastic Early Bird offer – that's up to a £70 discount on a 7 day break!  But hurry, this offer expires 31st January 2011.
They are also offering up to £40 off short breaks, again the offer ends 31 January 2011.
To get this amazing offer enter the following code EBD11.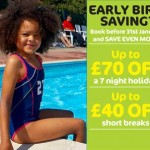 Park Holidays UK have 25 caravan holiday parks across the south coast of England including Devon, Dorset, Hampshire, Sussex, Kent, Essex and Suffolk.
To find more Holiday Parks on the south coast try looking at Find Holiday Parks where you will find Park Holidays and other great deals from other operators. If you are looking to find a Holiday Park specifically in Devon and Dorset there is no easier way to begin your search for the park of your choice.