Review of La Bien Assise Caravan and Camping Park, Guines Calais France
We visited the Castels site Bien Assise caravan park at Guines near Calais, Northern France in our touring caravan in summer 2011. We booked the site through Eurocamp Independent although you can also book direct through Caste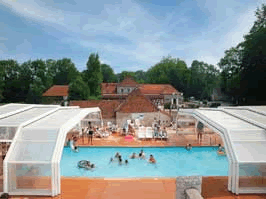 ls.
The Bien Assise park is just a 15 minute drive from the Channel Tunnel terminal and the ferries at Calais which makes it the perfect stopover site on the way out or the way home from your holiday. However, it is a much nicer site than simply a good place to stopover and so it is well worth sticking around there for longer.
The caravan park itself is large, with lots of green grass, hedging and trees, in fact a typical nice French caravan site. The pitch sizes all tend to be generous and certainly the one we were in would have been at least 2 caravan pitches at home!
Caravan and Camping pitches
We traveled to the site in our caravan but there were many people there with tents and the park was just as well suited to camping.
3 pin electric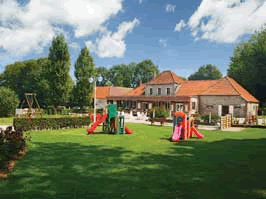 The electric on site is English 3 pin but it is worth using your tester just to check how it is wired up – we found live and neutral were switched around and so while this didn't stop us using it, we were prepared for any issues.
Washing facilities
The shower, washroom and toilet facilities were good, clean and well maintained. The toilets included seats and toilet roll/tissue and the showers were pleasant. There are a number of blocks around the park.
There were good washing up areas across the park also as well as washing machines and dryers on the site.
Pool
There is a small indoor swimming pool and a waterchute/pool. The pool is big enough to entertain children for a while but although it is supposed to be heated the day we were there it was cold.
Bar and Shop
There is a bar which is open afternoons and evenings and it has a pleasant seating courtyard area. Next door there is a small shop selling essentials and you can order bread/croissants for the morning.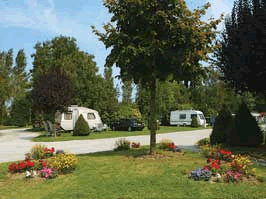 It is about 1 km to the nearest large Carrefore supermarket on the outskirts of Guines which has everything you will need including petrol.
Entertainment / WiFi
The Bar has free Internet WiFi access and as a result you will see much laptop activity outside the bar during the day!
There are a couple of small parks one of which includes a selection of exercise equipment. There are also 2 table tennis tables.
Holiday park accommodation at Bien Assise
Although we were visiting Bien Assise in our touring caravan there were lots of mobile home, static caravan and camping pitches available on site.  We took the opportunity to take a close look at these and found them to be in of a good quality whichever operator you used. All the main operators were on the park including Eurocamp, Keycamp and Canvas Holidays.
Overall we liked Bien Assise
We would highly recommend La Bien Assise as a great place to stop-over or for a slightly longer stay as it has great site facilities and excellent pitches. The park has enough to keep all the family entertained but on a longer summer holiday you may find you outgrow it.
Holiday operators and Booking