Make savings on holidays in Brittany France
There can be few places on earth so charming and unspoilt as Brittany. Yet for all its natural appeal, there is more to the region than simply endless miles of sandy beaches, hidden coves and picture perfect rock pools. Take a little time to explore and you will find Brittany also offers you historic sites that pre-date the pyramids, picturesque villages by the dozen, charming old towns such as St Malo and Quimper, and of course, timeless grandeur of Mont St Michel.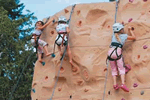 If you are looking for a holiday park that offers children's entertainment for all ages; a pool complex including a wave pool as well as an indoor pool; 18 hole golf course; a horse riding school and much more then you need to look at Chateau des Ormes, Dol-de-Bretagne. Situated in northern Brittany only 40km from Mont St Michel there is something for everyone.
For those of you, who like a bit of pampering on holiday while the children are burning off their energy in the swimming pool, try Le Ranoien in Perros-Guirec. There is a fantastic beauty/wellness spa which has a sauna, steam room and sun beds with various massage and beauty treatments available. This park is on the northern coast of Brittany only 46 miles from Roscoff.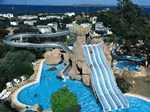 For more holiday parks in Brittany>