Budget holidays on the Atlantic coast of France
Set on the magnificent Atlantic coast of France, the Vendee has it all. Here you will find endless golden beaches where the Atlantic waves make a paradise for watersports enthusiasts and the climate makes it a delight for all the family. You will also find lively, modern resorts, excellent shopping centres, wonderful cuisine and mile after mile of sandy beaches.
For a day out away from the sea and beaches try Le Grand Parc Puy du Fou. This amazing theme park features many spectacular shows; an impressive medieval fort is the stage for fantastic battles and incredible special effects. The highlight of Puy du Fou is the Cinescenie, a thrilling 2 hour pageant with a cast of thousands infolding 700 years of history.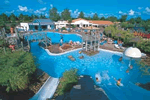 Stay in St Jean de Monts to be near the fantastic beaches, amazing restaurants and all that is great about the region. Le Clarys Plage is the place for a family holiday that caters for all the family. There are kid's clubs, a superb pool complex and sandy beaches nearby, and to add to that there is a supermarket walking distance from the site.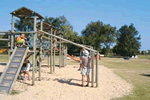 For a relaxing seaside holiday try La Yole. This attractive and relaxing site is especially suited to young families thanks to the excellent children's playground and array of swimming pools including an indoor pool.


For more holiday parks in Vendee>

Find other places to stay in France>