25% Off Brittany Holidays. Cheap Holiday Parks in Brittany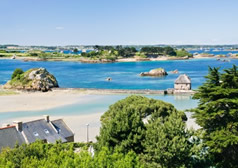 Charming, relaxing, miles of sandy beaches, family friendly… Brittany ticks all the boxes for a perfect family holiday destination this summer and you can get up to 25% off this July and August.
If you have not been to Brittany before it's fair to say that British families are attracted by the brilliant baches and the short travel from the UK but there is lots more to it than that, with historic sites that pre-date the pyramids, picturesque villages and charming old towns.
The best known landmark of Brittany is undoubtedly Mont St Michel, a 1,000 old Benedictine Abbey surrounded by water that attracts some 3 million visitors a year.  However, your sightseeing list should also include Menhir Stones near Carnac (some 2,000 standing stones that predate the pyramids and Stonehenge), St Malo (lively and pretty), Dinan (grand castle and pretty port), Quimper (famous for its pottery) and Lannion (picturesque Bretton townhouses).
If you are heading to Brittany some of the best self catering accommodation for families is to be found on holiday parks (or parcs if you prefer the French version).  You will find high quality tent, mobile home, static caravan and chalet accommodation on the sites and they offer excellent value for money with or without the current offers.  The accommodation includes everything you need from beds to kitchens, toilets to showers, so all you need to do is arrive to start enjoying your holiday.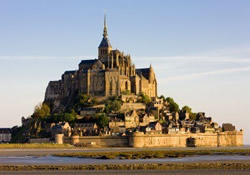 Of course the best bit about staying on a Brittany holiday park is the facilities they have on site or near by.  Whether you are looking for a relaxing break with a pool, sauna and bar or a more active family experience with entertainment, kids clubs, pools with slides, water sports, horseriding and so much more.
To give you an idea of the costs involved your family could stay at the popular Raguenes Plage in Brittany, in a 2 bed Horizon for 7 nights from 23rd July 2012, including the ferry, for just £1,032.  Pretty amazing for a 7 night family holiday.  Even at this late stage there are many holiday parks still offering up to 25% off this July and August but time is running out, you can find out more using the links below.